The Best Beaches and Coves of Ibiza
Ibiza is not only fun and nightlife. This small Balearic island also attracts attention for its incredible beaches and coves with turquoise water. Touring them is an indescribable pleasure, as is snorkeling, sailing through their waters, enjoying one of their boat parties, seeing the sunset…
With around fifty coves and beaches on its 210 km of coast, we have selected the best beaches and coves of Ibiza so that you can keep an eye on your stay on the island. Let's dive in!
BEACHES IN IBIZA
Las Salinas Beach – Photo by Federico Capoano
In Ibiza there are 2 beaches whose visit is completely essential: the Playa D´en Bossa and The Salt Flats.
The Salt Flats
It is the most famous and busiest beach on the island. It is like a giant pool of warm waters to which famous people usually go. The cavalcades of the nightclubs announcing their shows for the night are curious.
Playa d'en Bossa
As a paradisiacal beach it leaves a lot to be desired but if what you are looking for is beach and atmosphere all in one, it is your beach. It is home to the famous Bora Bora "day" nightclub.
If you feel hungry we have the best restaurant recommendations
CAVES IN IBIZA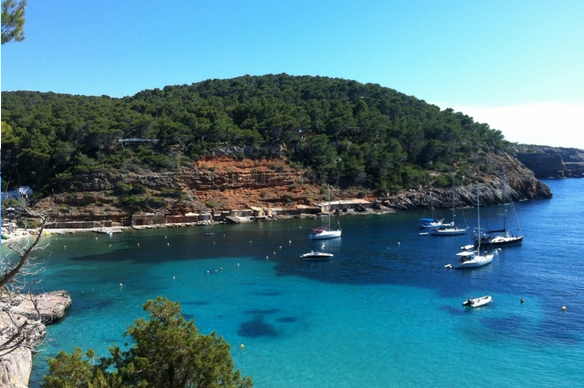 Cala Salada, in the Sant Antoni area
It is incredible how many coves there are on the island. From north to south and from east to west, at any point you can find a paradise cove! Our experience tells us that the essential things are:
Salt Creek
It is by far one of the best coves in Ibiza along with Cala Saladeta, but also one of the busiest.
Parking is a bit complicated. We recommend that you leave the car at the top of the road and go down the hill on foot, it's worth it! It has a lot of rock, cliffs and slopes so you can explore its crystalline waters.
Cala d'Hort
It is so big that it practically looks more like a beach than a cove. It is located in one of the most mysterious places on the island; he Peñón Es Vedra. According to the inhabitants of the area, near Es Vedrá, strange objects have been seen moving from one place to another under its waters, they have observed schools of fish changing their course... Come on, something worthy of an Iker Jiménez program. But what is really important is that its waters are so transparent that you will have the impression of swimming in a pool.
Cala Vadella
It is a small cove immersed in some high rocks. Very pretty and surrounded by small Ibizan houses that give it a lot of charm.
Cala Conta, in the San José area
Cala Conta
One of the most beautiful because of the turquoise color of its waters. We recommend it to enjoy its sunset. It has a great view and as the sunset goes by a great atmosphere.
San Vicente Cove
Protected from the wind by mountains covered by pine trees, it is an extensive beach with calm, blue waters located northeast of Ibiza.
Punta Galera
A completely essential place on the island. Its waters, its transparent bottom, the rocks that surround it and its incredible views, make it one of the most magical places on the island. Don't forget to bring some diving goggles to this cove, it's really worth it!
Punta Galera, Ibiza
These are the coves that you cannot miss, but do you want more crystal clear waters?
Cala Gracioneta, Cala Bass, Cala Caleta, Cala LLonga, Cala Portinatx, Cala Tarida, Figueretas, Cala Llenya, Cala Codolar, Cala Carbó, etc… These are some of the coves that you can also visit.
In summary, These are our tips when visiting the coves of Ibiza:
Arrive first thing in the morning.
Leave cars as far away as possible.
Access on foot.
Bring a cooler stocked with soft drinks to get you through the day, as not all coves have bar service. In some, kids pass by all day long selling melon, watermelon, and mojitos. Which is also appreciated, but having your own refrigerator is even more appreciated.
Can we miss any coves that you would like to recommend? Please tell us! EITHER upload the photos to our Facebook of the ones you like the most.